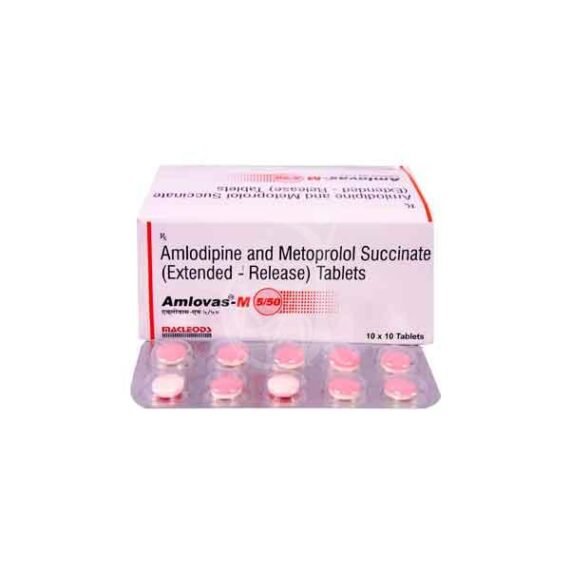 Amlovas M 5/50 Tablet
$0.00
Brand: Amlovas-M 5/50 Tablet
Composition: Amlodipine 5mg & Metoprolol Succinate 50mg
Form: Tablet
Packing: 10×10 Tablets
Manufacture By: Macleods Pharmaceuticals Pvt Ltd
DESCRIPTION:
Two medications, both of which aid in regulating excessive blood pressure and heart rate, are found in Amlovas-M 5/50 Tablet. Chronic (long-term) heart failure, irregular cardiac rhythms, and chest discomfort associated with the heart are also treated with it.
Description
How to Take an Amlovas-M 5/50 Tablet?
Use it as directed by your doctor, or first read the label to confirm usage. It is preferable to take Amlovas-M 5/50 Tablet at a set time rather than with or without food.
Possible side effects of Amlovas-M 5/50 Tablet
Along with its demanded goods, a drug may beget some unwanted goods. Although not all of these side goods may do, if they do they may need medical attention.
Check with your croaker or nanny incontinently if any of the ensuing side goods do
Nausea

Slow heart rate

Abdominal pain

Dizziness

Fatigue

Sleepiness

Ankle swelling

Constipation

Edema (swelling)

Flushing (sense of warmth in the face, ears, neck, and trunk)

Palpitations

Headache

Vomiting

Visual disturbance

Orthostatic hypotension (sudden lowering of blood pressure on standing)

Breathlessness

Muscle cramp
Storage.
It should store below 30°C in a cool dry place.
Why choose us?
Jindal Medical Store is one of the topmost pharmaceutical exporters with an experience of more than 53 years. Amlovas-M 5/50 Tablet is sold in bulk at very affordable prices. They provide the best quality services at your own convenient time. If you are looking for an Amlovas-M 5/50 Tablet then you can visit our website.
Send your query