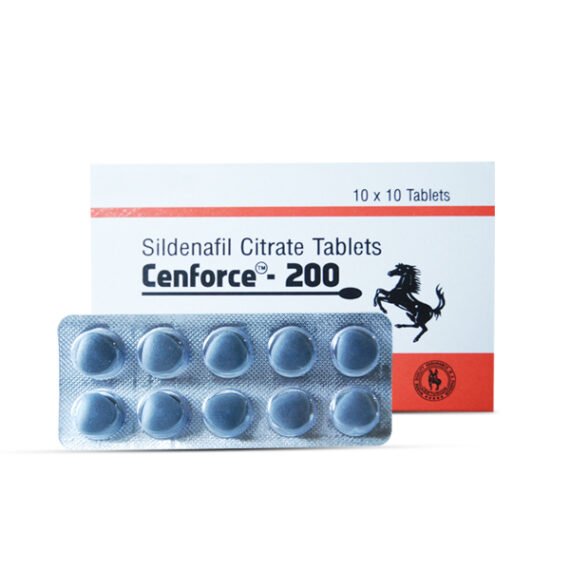 Cenforce 200
$0.00
Name: Cenforce 200 mg
Composition: Sildenafil
Form: Tablets
Packing: 10×10 Tablets
Manufactured by: Centurion Remedies 
Description
Cenforce 200 mg contains Sildenafil which helps treat erectile dysfunction in men. It works by increasing the blood flow in the penis by relaxing the muscles in penile blood vessels which helps to have an erection.
Cenforce 200 mg is a brand produced by Centurion Laboratories in India. These pills containing a sildenafil of dose 200mg are used for erectile dysfunction (impotence). This is considered one of the best treatment options available for males when they face problems in their sexual organs. In the USA, the drug is sold under the brand name sildenafil tablets. It is a prescription drug; it means the drug can be taken only when prescribed by a doctor.
Description
How to consume?
It should be taken as directed by a doctor. Only one tablet should be taken in 24 hours. It is to be taken 30 to 40 minutes before having intercourse. 
Cenforce 200 mg side effects 
Diarrhea 

Dizziness 

Flushing

Heartburn 

Vision Disturbances 

Muscle Ache

Hearing loss

Sleep Disturbances 

Storage
It should be kept in cool and dry places away from children and pets.
Why choose us?
Jindal Medical Store is one of the topmost pharmaceutical suppliers with experience of more than 53 years. Cenforce 200 mg tablets are sold in bulk at very affordable prices. They provide the best quality services at your own convenient time. If you are looking for Cenforce 200 mg tablets then you can visit our website.
Send your query