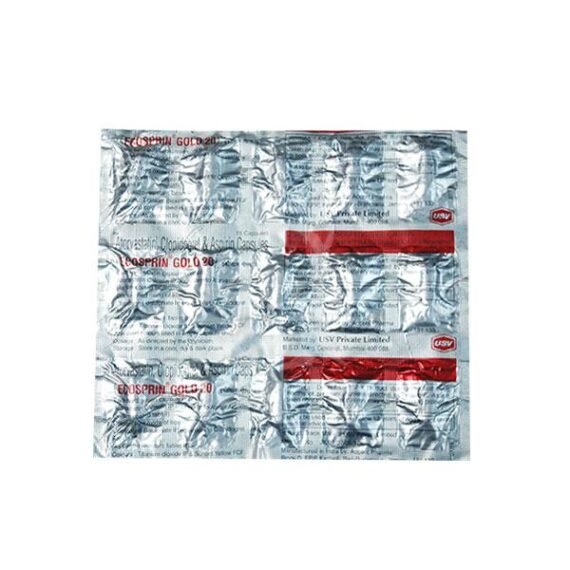 Ecosprin Gold 20
$0.00
Name: Ecosprin Gold 20
Composition: Aspirin (75mg) + Atorvastatin (20mg) + Clopidogrel(75mg)
Form: Capsule
Packing: 10×15 Capsules
Manufactured by: USV Ltd
Description
Ecosprin Gold 20 is used for the prevention of heart attacks. It is a combination of medicines that prevent clot formation in the blood vessels. It also helps to reduce increased cholesterol and triglycerides levels. Ecosprin Gold 20 should be taken with food regularly at a fixed time each day. You should take it regularly at evenly spaced intervals as per the schedule prescribed by your doctor. Taking it at the same time every day will help you remember to take it. The dose and duration of treatment will depend on what you are being treated for. Do not stop taking it until you have finished the complete course, even when you feel better.
Description
How to consume?
Take this medicine in the dose and duration as advised by your doctor. Ecosprin Gold 20 is to be taken with food.
Ecosprin Gold 20 side effects:
• Increased bleeding tendency
• Abdominal pain
• Indigestion
• Bruise
• Nosebleeds
• Gastrointestinal bleeding
• Diarrhea
Storage
Store in a cool and dry place, Store below 30°C.
Why choose us?
Jindal Medical Store is one of the topmost pharmaceutical suppliers with experience of more than 50 years. Ecosprin Gold 20 is sold in bulk at very affordable prices. They provide the best quality services at your own convenient time. If you are looking for Aspirin 75mg + Atorvastatin 20mg + Clopidogrel 75mg then you can visit our website.
Send your query