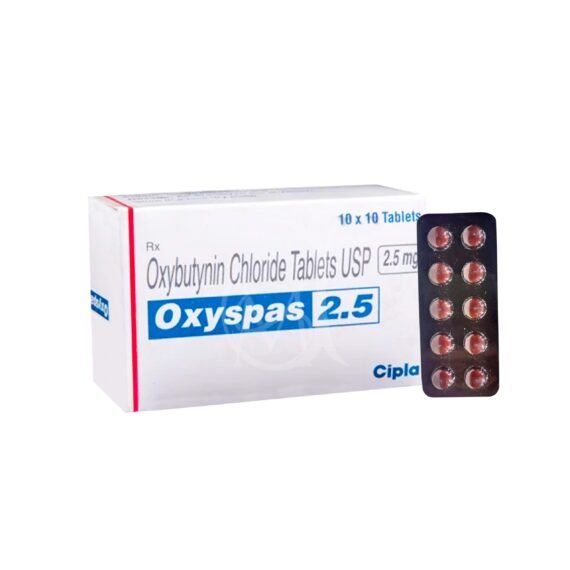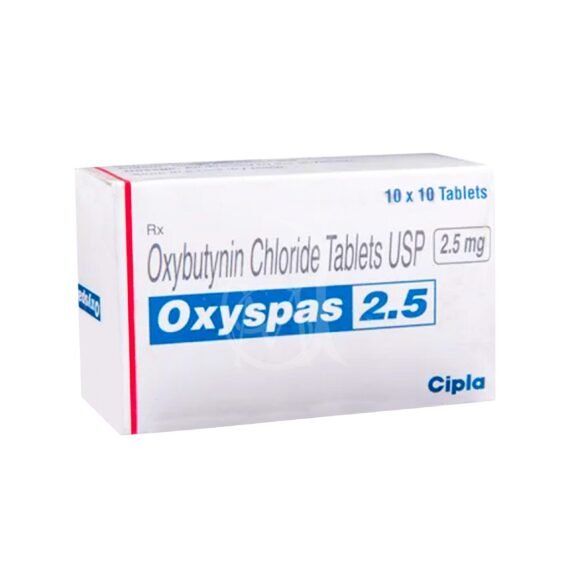 Oxyspas 2.5 Tablet
$0.00
Brand: Oxyspas 2.5 Tablet
Composition: Oxybutynin 2.5mg
Form: Tablet
Packing: 10 x 10 Tablets
Manufactured By: Cipla  Ltd
DESCRIPTION:
Overactive bladder is treated with Oxyspas 2.5 Tablet. Urinary symptoms include frequent urination, the need to urinate immediately, and the difficulty to regulate urination are relieved.
It is advised to take Oxyspas 2.5 Tablet in accordance with the recommended dosage and time frame. It ought to be consumed without food at least an hour before a meal, on an empty stomach. The medication should be swallowed whole without being crushed or chewed. Without seeing your doctor, you shouldn't stop taking the medication because doing so could make your symptoms worse.
Description
How to Take Oxyspas 2.5 Tablet?
Follow your doctor's instructions for this medication's dosage and duration. Take it all in at once. Don't eat it, break it, or crush it. Oxyspas 2.5 Tablet is to be taken empty stomach.
Possible side effects of Oxyspas 2.5 Tablet
Most aspect effects no longer require any medical attention and disappear as your body adjusts to the medicine. Consult your medical doctor in the event that they persist or in case you're concerned approximately them
Dryness in mouth

Constipation

Diarrhea

Blurred vision

Dry skin

Dizziness

Headache

Sleepiness
Storage.
Store in a cool and dry place away from sunlight.
Why choose us?
Jindal Medical Store is one of the topmost pharmaceutical exporters with an experience of more than 53 years. Oxyspas 2.5 Tablet is sold in bulk at very affordable prices. They provide the best quality services at your own convenient time. If you are looking for an Oxyspas 2.5 Tablet, you can visit our website.
Send your query