Remedy for Erectile dysfunction (ED)
May 20, 2022
2023-01-28 15:04
Remedy for Erectile dysfunction (ED)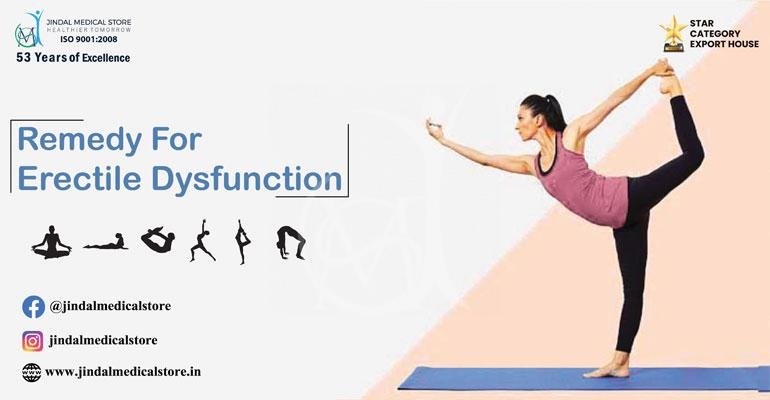 Remedy for Erectile dysfunction (ED)
ED or Erectile Dysfunction is a common problem faced by many men. As per stats, around 30 million men face this problem globally. A common question that pops up is the probable cause of this, who is more susceptible to this problem, and the right course of treatment for this issue. In this blog, we will try to answer all the questions. Let's get started !!!
Who is more prone to face the problem of erectile dysfunction?
There can be several reasons for erectile dysfunction, and the following people are more prone to face this issue:
Age is an important factor.

If you have any health conditions like diabetes or high BP, then there is a greater probability for you to face the ED issue.

Any kind of injury in the spinal cord, pelvis, or penis can cause erectile dysfunction issues.

If you are overweight, it can also lead to erectile dysfunction issues.

In addition to physical injury or illness, stress and poor lifestyles like smoking and drinking can result in erectile dysfunction. 
The right course of treatment
If you too are facing a problem, the best solution would be to visit the doctor. They can prescribe you certain medicines, and there are alternative treatment methods. Here we will be focussing on both these aspects.
Natural remedies for treating erectile dysfunction
Since erectile dysfunction is often a result of smoking, drinking, or stress, you can modify your lifestyle and get rid of this problem. Relationship counseling also works wonders in this case. 
Diet- Proper diet is paramount for good health and even your sexual health. A balanced diet ensures that there is a lesser risk of ED. As per a 2020 study, men who followed a healthy diet had a lower chance of developing ED than those who didn't follow this diet. So, what does a balanced diet include? It is a proper blend of fruits, vegetable legumes, and nuts; as per 2017 research, eating fruits and vegetables and flavonoids reduces the risk of ED for men between 18 and 40.  
Exercise: The next important habit that you must follow, irrespective of whether you have the problem of ED or not, is to exercise. Not only does it enriches the body with oxygen and energy, but it also helps you combat the problem of ED. As per a 2018 study, moderate to extensive exercising for 40 minutes every day helped reduce the problem of ED. Some of the exercises that you can follow are:
Cycling

Swimming

Running

Brisk walking

Running
With regular exercise and physical activity, the blood circulation increases, and thus it raises the testosterone level, thereby controlling the problem of ED.
Physical activity helps in enhancing blood circulation, thereby reducing stress and increasing the level of testosterone that can help resolve the problem of ED. 
Sleep: We have often heard that proper sleep plays an important role in good health, but did you know that it also helps improve the problem of erectile dysfunction. A 2017 study showed that men working night shifts often reported the problem of ED. Lack of sleep or poor sleep may lower the level of testosterone, thereby leading to the problem of ED. Lack of sleep is also associated with diabetes, stress, and blood pressure. 
Psychotherapy: In some cases, it has been found that ED is a result of physical and psychological issues. The probable causes could be a religious belief, failure, trauma, stress, etc. Also, ED can add to mental health issues like emotional distress and lowered self-esteem. According to a 2021 research review, therapies like cognitive behavioral therapy prove effective when coupled with ED medication. 
Stress reduction: Anxiety and stress are often associated with ED. As per a 2019 study, stress is one of the major causes of ED. Studies have shown that stress and anxiety can lead to a lowered testosterone level, contributing to the problem of erectile dysfunction. Although there have been certain cases proving the effect of stress on ED, no such confirmed reports have been found. In addition, there was a small study conducted in 2014 that an 8-week stress management program along with ED medication showed improvement in resolving erectile dysfunction compared to medicine alone. 
Alcohol reduction: Mixed results have been found when it comes to showing the effect of alcohol on ED—as per research in 2018, drinking a light-to-moderate amount of alcohol, i.e., less than 21 drinks per week, lowers the risk of ED. Studies have also shown that people with alcohol dependency syndrome face the problem of sexual dysfunction. However, more research is needed to confirm this. 
Smoking cessation: This is yet another reason that could probably be causing erectile dysfunction. Smoking can damage the blood vessels, thereby preventing easier and faster blood circulation. This can also reduce the blood flow to the penis, thus causing erectile dysfunction. 
Also, regular smoking reduces nitric oxide availability in the body, which triggers involuntary muscle relaxation that causes increased blood flow, which plays an important role in erections. 
As per a study in 2015, frequent smoking was associated with the risk of increased probability of ED.  
Besides erectile dysfunction, smoking is a probable cause of lung cancer. Hence staying at bay from this habit will prove beneficial for your health. 
Medicines to cure erectile dysfunction
People facing the risk of erectile dysfunction can now find a cure for this problem. There is specific medicine that is used to cure erectile dysfunction. If you have faced the problem of erectile dysfunction, then you must immediately visit the doctor, and they will advise you on the right course of action. Since the medicine for erectile dysfunction can react with some other medicine, you must always inform the doctor about the medications or medical history to prescribe the right course of medication. 
Don't get swayed by advertisements that quote to be helpful in treating erectile dysfunction, and don't pick the medicine randomly. It is always good to see a doctor before you start medication. 
Also, there are defined dosages for such medications, which one must always follow. Falling short of it or consuming a higher dosage can have adverse effects. 
Frequently asked questions about erectile dysfunction.
What is the right treatment for erectile dysfunction?
Following a healthy lifestyle will keep all the problems at bay; however, if you are still facing the problem of erectile dysfunction, it is important to seek an expert's assistance. It is important to find the underlying cause is paramount. Hence, you must seek the doctor's advice to understand the causes of the same. There are oral medications that the doctor will suggest after consultation. 
Can erectile dysfunction be cured?
Yes, erectile dysfunction is not a problem that can be cured, and you can adopt a good and healthy lifestyle, coupled with proper medication, to get the right treatment. However, it is always good to seek the doctor's advice.
If natural remedies don't work, is there any medicine that can help?
Sometimes the natural remedy doesn't prove to be effective, and you may have to look for medicine. The following medicines are popularly recommended:
Extra Super Tadarise

Super Tadarise

Poxet- 60

Kamagra Oral Jelly Vol 1
Extra Super P Force
However, these medicines have certain side effects, like headache, indigestion, dizziness, and nausea. It is advised that you must not take these medicines if you are undergoing medication that has nitrates. It is always advised to visit the doctor before starting the medication, and they will advise you on the right dosage. 
Concluding thoughts
There are several reasons for erectile dysfunction, mental stress, hormonal problems, diseases, or physical injury, and ED can also impact the relationship. Hence, it is good to be a bit observant and if you are continuously facing the problem of erectile dysfunction, you must look for an expert's advice. Adopting a healthy lifestyle and natural remedies like those mentioned above will help you. 
If these are not helping improve the problem, then it is best to speak to a doctor. They will look into the problem and advise you on the right solution. You can visit the doctor with your partner. Discuss the problem with your doctor, and they will suggest the right medication and some other therapies that will improve your physical and mental health. All these will work together to cure the problem of erectile dysfunction.
Jindal Medical Store (JMS)
The answer to all the problems is JMS. They are one such pharmaceutical exporters who have an experience of more than 52 years. They have 72 distribution houses in 13 counties. It is one of the 19 exporters in this industry that has successfully served 79% of committed deliveries.
Through quality assurance and continuous service, they ensure that customers have a hurdle-free journey. They offer a wide range of Erectile Dysfunction products, Prime Life Science Drugs, Anti-Cancer medicines, and Prime Ayurveda items. They are certified with WHO compiled products. They are the world's 3rd  largest supplier of Ajanta Pharma, Sunrise Remedies, and Centurion Laboratories products. They have worked with customers of various countries like Russia, the USA, Canada, New Zealand, China, Saudi Arabia, Italy, and many others.