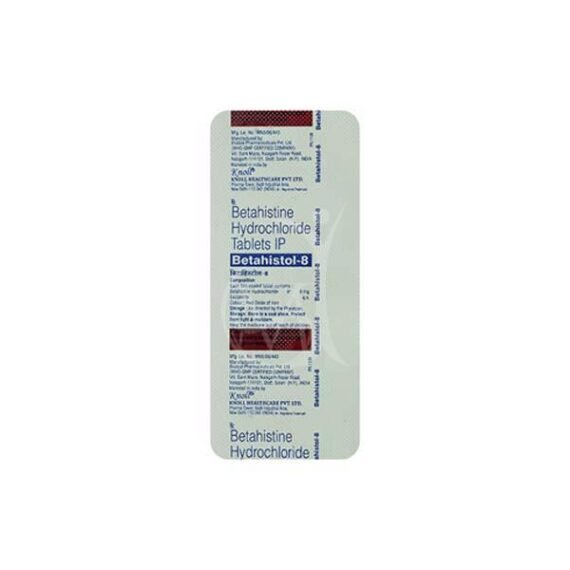 Betahistol 8 Mg
$0.00
Brand: Betahistol 8 Mg Tablet
Composition: Betahistine 8mg
Forum: Tablet
Packing: 20×10 Tablet
Manufactured By: Knoll International Ltd
DESCRIPTION:
BETAHISTOL 8MG TABLET is a member of the class of drugs known as "antihistamine anti-vertigo medication." It is primarily used to treat Meniere's disease and the symptoms it causes, which include vertigo, tinnitus, nausea, and difficulties hearing. Meniere's disease is an illness that affects the inner ear and is brought on by an accumulation of excess fluid there. A person who has vertigo believes they are moving or spinning, yet they are not. A person with tinnitus experiences ringing or noise in their ears.
Description
How to Take Betahistol 8 Mg Tablet?
To prevent stomach discomfort, take BETAHISTOL 8MG TABLET after meals or as directed by a physician. Take the entire pill with a glass of water. Never chew, break, or crush the tablet.
Avpred 4mg Tablet with dietary sodium should be avoided.
Possible side effects of Betahistol 8 Mg Tablet
Most aspect effects no longer require medical attention and disappear as your body adjusts to the medicine. Consult your medical doctor in the event that they persist or in case you're concerned approximately them
Nausea

Bloating

Headache

Vomiting

Stomach discomfort
Storage.
Store in a cool and dry place away from sunlight.
Why choose us?
Jindal Medical Store is one of the topmost pharmaceutical exporters with an experience of more than 53 years. Betahistol 8 Mg Tablet is sold in bulk at very affordable prices. They provide the best quality services at your own convenient time. You can visit our website if you are looking for Betahistol 8 Mg Tablet.
Send your query