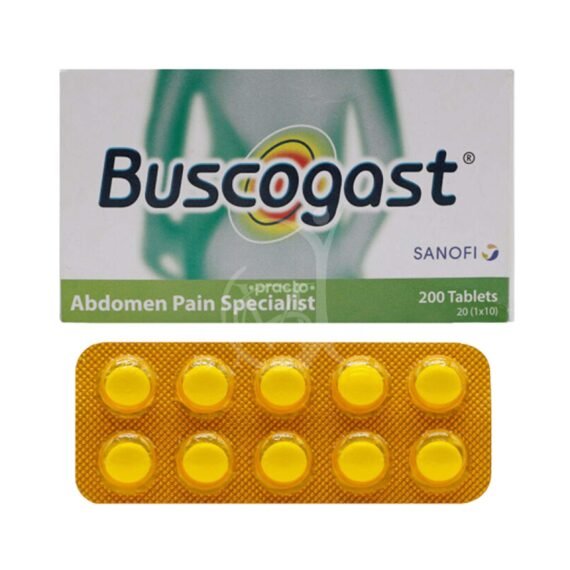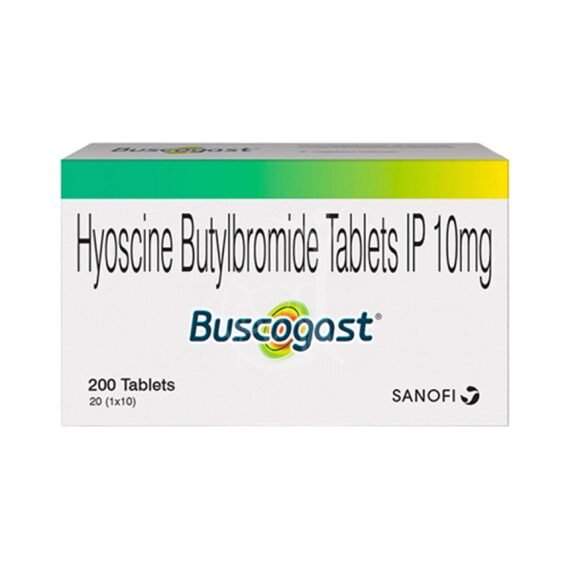 Buscogast Tablet
$0.00
Brand: Buscogast Tablet
Composition: Hyoscine Butylbromide
Form: Tablets
Packing: 20(1×10) Tablets
Manufactured By:Recipharm Pharmaservices Pvt. Ltd.
DESCRIPTION:
Buscogast 10 mg Tablet contains Hyoscine butylbromide that's used to relieve cramps (sharp pain) associated with the gastrointestinal tract (stomach and intestine). It's also used to relieve cramps of the bladder in individuals having order monuments.
Buscogast 10 mg Tablet is also used to treat symptoms similar as abdominal pain, bloating, indigestion, stomach cramps, diarrhoea, etc. associated with perverse bowel pattern (a complaint that affects the large intestine) and peptic ulcers (an open sore that occurs on the inner filling of your stomach and the upper region of your small intestine).
Description
How to Buscogast 10 mg Tablet?
Swallow Buscogast 10 mg Tablet as a whole with water; don't crush, break or bite it. It's better to take it at a fixed time.
Possible side effects of Buscogast 10 mg Tablet
Most aspect effects no longer require medical attention and disappear as your body adjusts to the medicine. Consult your medical doctor in the event that they persist or in case you're concerned approximately them
Irregular heart rate

Dry mouth

Visual disturbances

Difficulty in passing urine

Dizziness

Decreased blood pressure

Diarrhoea

Feeling of warmth or heat

Sensitivity to light
Storage.
Store in a cool and dry place away from sunlight.
Why choose us?
Jindal Medical Store is one of the topmost pharmaceutical exporters with an experience of more than 53 years. Buscogast 10 mg tablets are sold in bulk at very affordable prices. They provide the best quality services at your own convenient time. You can visit our website if you are looking for a Buscogast 10 mg Tablet.
Send your query