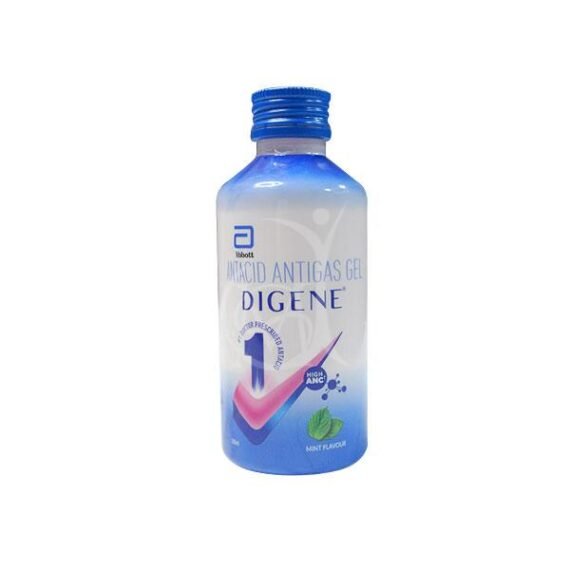 Digene Gel 450ML
$0.00
Name: Digene Gel
Composition:  Antacid Antigas Gel
Form: Syrups
Packing: 450ml
Manufactured by: Abbott
Description
It is used to provide relief from acidity and gas. It provides quick and effective relief from symptoms of belching and bloating that are caused due to gas. It also improves the symptoms of acidity such as abdominal pain and stomach discomfort. It works by neutralizing the stomach acid in the body. It is an antacid that contains magnesium hydroxide as one of its active ingredients. The magnesium hydroxide dissolves quickly in the stomach and provides quick action. It interacts with the stomach acid to produce magnesium chloride which when absorbed by the body provides rapid relief from acid reflux by neutralizing gastric acid.
Description
How to consume?
Adults are advised to chew or suck 2-4 tablets 1 hour after meals, preferably at bedtime or as advised by your physician. Children can take the tablets as per their doctor's recommendation.
Digene Gel side effects:
These tablets are usually safe and don't cause any side effects when taken as per the doctor's recommendation. However, if your symptoms do not improve or if your condition worsens, consult your doctor immediately.
Storage
Store in a cool dry place away from direct sunlight.
Why choose us?
Jindal Medical Store is one of the topmost pharmaceutical exporters with experience of more than 50 years. Digene Gel is sold in bulk at very affordable prices. They provide the best quality services at your own convenient time. If you are looking for Antacid Antigas Gel then you can visit our website.
Send your query