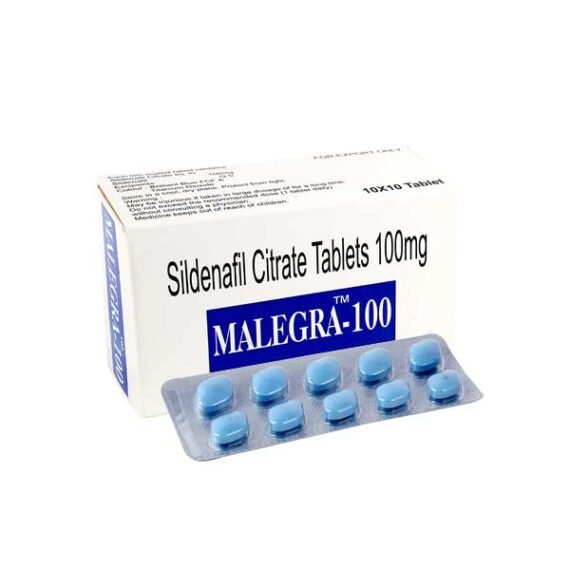 Malegra 100
$0.00
Brand: Malegra 100
Composition: Sildenafil Citrate
Form: Tablet
Strength: Sildenafil Citrate 100mg
Packing: 10×10 Tablets
Manufacture By: SUNRISE REMEDIES PVT LTD
DESCRIPTION:
The drug contains sildenafil citrate which is a PDE-5 inhibitor with the dosage of 100 mg per tablet. It opens up blocked arteries in the body especially in the genital area which promotes blood flow allowing a full erection to occur. It smoothens the muscles in the penis which facilitates a significantly higher blood flow resulting to fuller erections that last longer. It also helps the recover faster after ejaculation. Take note that the drug only works when a man is aroused sexually.
Description
What does Malegra 100 contain?
Malegra 100 having 100 mg of Sildenafil citrate.
How to take Malegra 100?
Malegra 100mg tablets should be taken with a full glass of water on an empty stomach. It works best when taken at least one hour prior to planned sexual activity. The effect of taking this drug will last approximately 4 hours, so there is a very good time window for sexual activity.
Possible side effects of Malegra 100
Major & minor side effects for Malegra 100 Tablet
Back Pain
Stuffy nose
Headache
Nausea or vomiting
Indigestion
Chest pain or irregular heartbeat
Loss of vision
Hearing loss
Lightheaded
Storage.
Keep out of the reach and sight of children.
Store in the original package, in order to protect from moisture.
Why choose us?
Jindal Medical Store is one of the topmost pharmaceutical suppliers with experience of more than 50 years. Malegra 100 tablets are sold in bulk at very affordable prices. They provide the best quality services at your own convenient time. If you are looking for Malegra 100 then you can visit our website.
Send your query