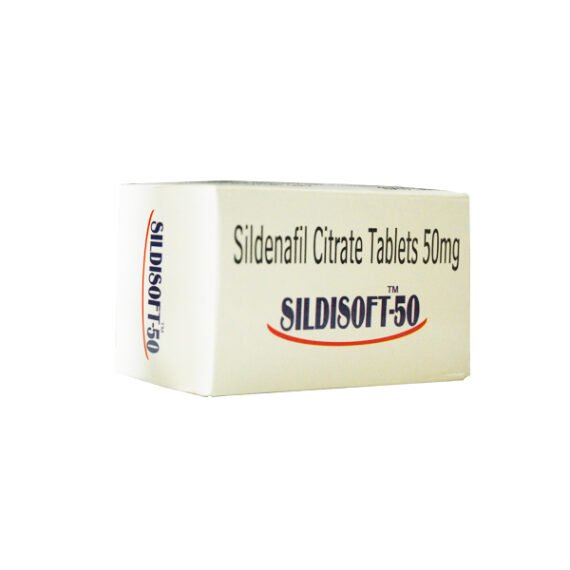 Sildisoft 50mg
$0.00
Brand: Sildisoft 50mg
Composition: Sildenafil Citrate
Form: Tablet
Strength: Sildenafil Citrate 50mg
Packing: 10×10 Tablet
Manufacture By: SUNRISE REMEDIES PVT LTD
DESCRIPTION:
Sildisoft 50mg Tablet is a phosphodiesterase (PDE-5) inhibitor. It works by increasing blood flow to the penis by relaxing the muscles in penile blood vessels.
Description
What does Sildisoft 50mg contain?
It contains Sildenafil Citrate 50mg
How to take Sildisoft 50mg?
Follow each and every direction advised by your doctor. You must chew and swallow the pill half an hour before sexual activity. You can take the pill with or without food, try to consume it on an empty stomach to yield better results. Do not consume alcohol or fatty foods along with this medicine, as they readily interrupt drug assimilation.
Consume a chew orally without water. Take medicine 30 minutes before intercourse in presence of complete sexual stimulation.
Possible side effects of Sildisoft 50mg.
Headache
Stomachache
Dizziness
Drowsiness
Facial Flushing
Nasal Congestion
Vomiting
Severe Reaction
Allergic Patch
Storage.
Store at room temperature away from moisture, sunlight, kids, and pets in a tight container.
Why choose us?
Jindal Medical Store is one of the topmost pharmaceutical suppliers with experience of more than 50 years. Sildisoft 50mg tablets are sold in bulk at very affordable prices. They provide the best quality services at your own convenient time. If you are looking for Sildisoft 50mg tablets then you can visit our website.
Send your query