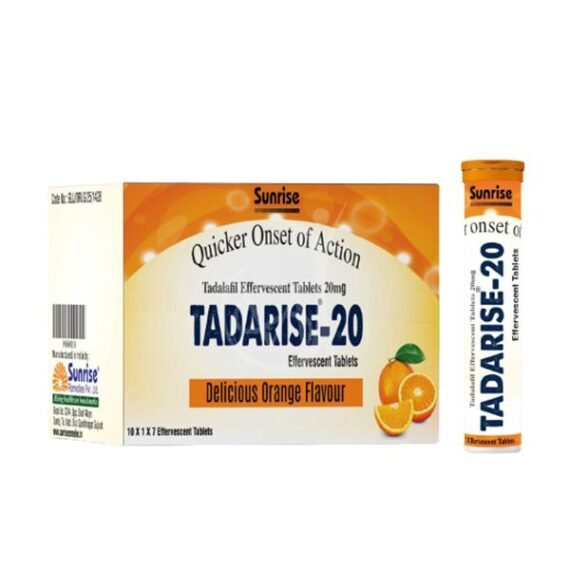 Tadarise Effervescent 20mg
$0.00
Brand: Tadarise Effervescent 20mg
Composition: Tadalafil Effervescent 20 Mg (Orange flavour)
Forum: Tablet
Packing: 10x1x7 Tablets
Manufactured By: Sunrise Remedies Pvt Ltd.
DESCRIPTION:
Tadarise effervescent Tadalafil 20 Mg is Used to treat erectile dysfunction (impotence) in men. Tadarise Tadalafil 20 Effervescent tablets are the newest version of the Generic Tadalafil, a popular product for treating erectile dysfunction. It contains Tadalafil a compound that makes it a quick-dissolving solution to erectile dysfunction (impotence) in men. Tadalafil effervescent is produced in the highest quality standard to ensure safety and effectiveness. Patients using Tadarise Effervescent regularly report successful intercourse and generally continue to Tadalafil use as the ED treatment. The effective treatment time of Tadalafil Effervescent is 1-3 hours, however many doctors report longer effective times.
Description
How to Take an Tadarise effervescent 20mg?
Follow your doctor's instructions for this medication's dosage and duration. 
Possible side effects of Tadarise effervescent 20mg
Most aspect effects no longer require medical attention and disappear as your body adjusts to the medicine. Consult your medical doctor in the event that they persist or in case you're concerned approximately them
headache

dyspepsia

back pain

myalgia

nasopharyngitis

dizziness
Storage.
Store in a cool and dry place away from sunlight.
Why choose us?
Jindal Medical Store is one of the topmost pharmaceutical exporters with an experience of more than 53 years. Tadarise effervescent 20mg is sold in bulk at very affordable prices. They provide the best quality services at your own convenient time. You can visit our website if you are looking for Tadarise effervescent 20mg.
Send your query