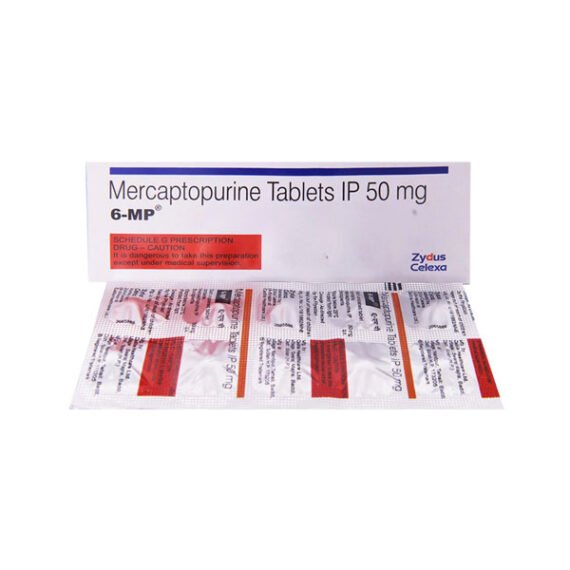 6-MP
$0.00
Name: 6-MP
Composition: Mercaptopurine (50mg)
Form: Tablet
Packing: 10 X 10 Tablets
Manufactured by: Zydus Cadila
Description
6-MP Tablet is used in the treatment of blood cancer. It works by decreasing the number of red blood cells, which is produced by the body. Thereby prevents the cancer cells from growing and multiplying. 6-MP Tablet can be taken with or without food or you can have it one hour before or 2 hours after the meal. Your doctor will decide what dose is necessary and how often you need to take it.
Description
How to consume?
Take this medicine in the dose and duration as advised by your doctor. Swallow it as a whole. Do not chew, crush or break it. 6-MP Tablet may be taken with or without food, but it is better to take it at a fixed time.
6-MP side effects :
• Nausea
• Vomiting
• Rash
• Decreased white blood cell count
• Intestinal ulcer
• Anemia (low number of red blood cells)
• Increased bilirubin in the blood
• Low blood platelets
Storage
It should be kept in cool and dry places Store below 30°C.
Why choose us?
Jindal Medical Store is one of the topmost pharmaceutical exporters with experience of more than 50 years. 6-MP is sold in bulk at very affordable prices. They provide the best quality services at your own convenient time. If you are looking for Mercaptopurine 50mg then you can visit our website.
Send your query