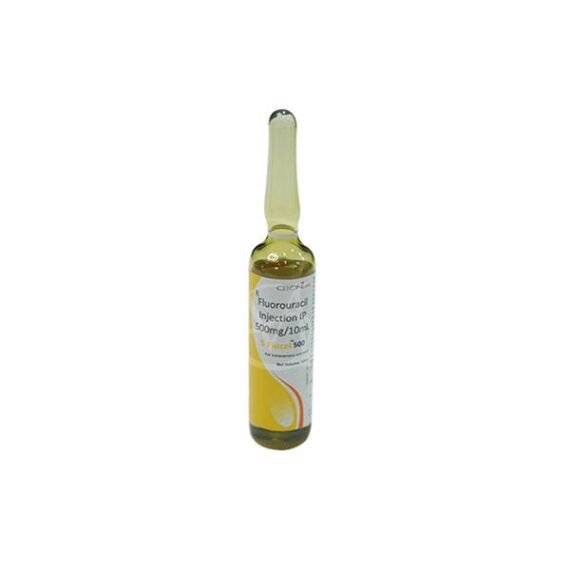 5 Flucel 500
$0.00
Name: 5 Flucel 500
Composition: Fluorouracil (500mg)
Form: Ampoule
Packing: 5 Ampoules of each 10 ml
Manufactured by: Celon Laboratories Ltd
Description
5 Flucel 500 is used in the treatment of cancers of the stomach, colon, rectum, breast, and lungs. It may be used to treat other conditions, as determined by the doctor. It is sometimes used with certain other medicines as part of combination chemotherapy. 5 Flucel 500 is given as an injection under the supervision of a doctor. Your doctor will decide what dose is necessary and how often you need to take it. This will depend on what you are being treated for and may change from time to time. You should take it exactly as your doctor has advised. Taking it in the wrong way or taking too much can cause very serious side effects. It may take several weeks or months for you to see or feel the benefits but do not stop taking it unless your doctor tells you to.
Description
How to consume?
Your doctor or nurse will give you this medicine. Kindly do not self-administer.
5 Flucel 500 side effects:
• Increased risk of infection
• Mouth ulcer
• Vomiting
• Weakness
• Nausea
• Loss of appetite
• Hair loss
• Blisters on fingers/feet
• Decreased blood cells (red cells, white cells, and platelets)
• Diarrhea
Storage
Store below 30°C.
Why choose us?
Jindal Medical Store is one of the topmost pharmaceutical exporters with experience of more than 50 years. 5 Flucel 500 is sold in bulk at very affordable prices. They provide the best quality services at your own convenient time. If you are looking for Fluorouracil 500mg then you can visit our website.
Send your query