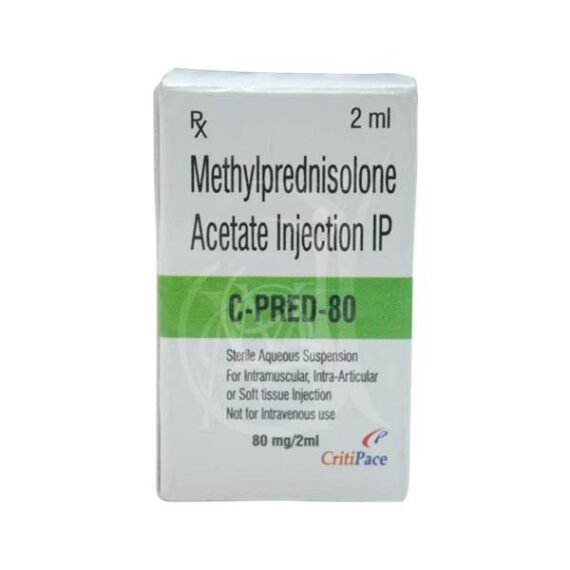 C-Pred 80 Injection
$0.00
Brand: C Pred 80mg Injection
Composition: Methylprednisolone Acetate Injection IP
Form: Injection
Packing: 2 ml
Manufactured By: CritiPace
DESCRIPTION:
C Pred 80mg Injection is generally given as an infusion by your PCP into a vein, joint, or muscle. The sum you are given will rely upon what you are being treated for and the amount you want to control your side effects. Assuming you are utilizing this medicine at home, advance precisely how to do it accurately from your primary care physician. You ought to continuously take the sum endorsed. Try not to take a bigger portion or use it on a more regular basis. Taking a higher portion won't further develop your condition quicker, and your gamble of incidental effects will increment. Continue to take it routinely regardless of whether you feel great. Try not to abruptly stop this prescription as your condition might turn out to be more regrettable. It ought to constantly be halted steadily.
Description
How to Take C Pred 80mg Injection?
Your doctor or nurse will give you this medicine. Kindly do not self-administer.
Possible side effects of C Pred 80mg Injection
Most aspect effects no longer require any medical attention and disappear as your body adjusts to the medicine. Consult your medical doctor in the event that they persist or in case you're concerned approximately them
Nausea

Sweating

Edema (swelling)

Thinning of skin

Increased risk of infection

Reduction in bone density

Weight gain

Mood changes

Upset stomach

Behavioral changes
Storage.
It should store below 30°C in a cool dry place.
Why choose us?
Jindal Medical Store is one of the topmost pharmaceutical exporters with an experience of more than 53 years. C Pred 80mg Injection is sold in bulk at very affordable prices. They provide the best quality services at your own convenient time. If you are looking for C Pred 80mg Injection then you can visit our website.
Send your query