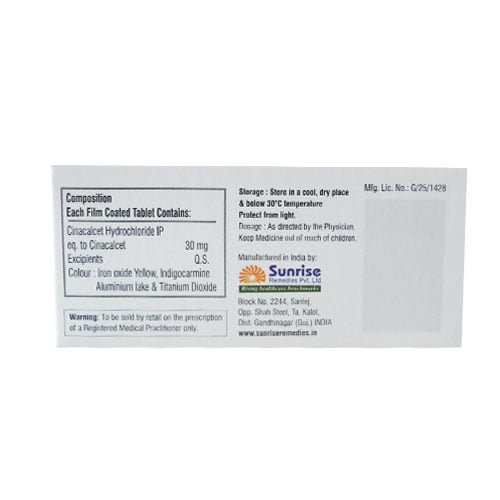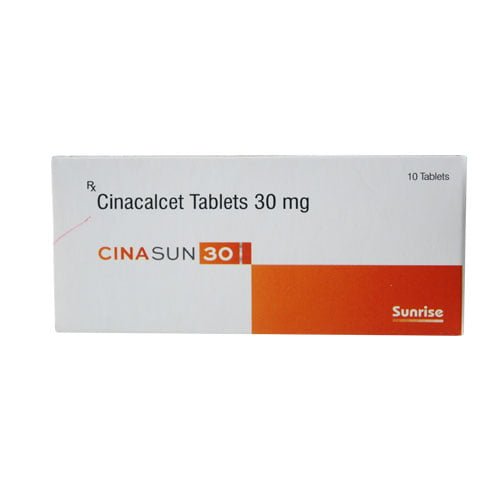 Cinasun 30
$0.00
Name: Cinasun 30
Composition: Cinacalcet 30 mg
Form: Tablet
Packing: 1X10 Tablets
Manufactured by: Sunrise Remedies
Description
Cinasun 30 is used for the treatment of hyperparathyroidism. This condition occurs when the levels of a hormone known as a parathyroid hormone in our body increases. It contains Cinacalcet 30 mg as its active medicine. Do not take this medicine if you are allergic to it or have low calcium levels. Secondary hyperparathyroidism in dialysis patients with chronic kidney disease is the product's condition of excessive secretion of parathyroid hormone by the parathyroid glands in response to hypocalcemia (low blood calcium levels), with resultant hyperplasia (increase in the number of cells) of these glands. This disorder is primarily seen in patients with chronic kidney failure.
Description
How to consume?
Cinacalcet 30 mg is used alone or with other medications to treat secondary hyperparathyroidism.
Cinasun 30 side effects:
• Nausea
• Vomiting
• Diarrhea
• Loss of appetite
• Muscle pain
• Mild chest pain
• Dizziness
• Weakness
Storage
It should be kept in cool and dry places Store below 30°C.
Why choose us?
Jindal Medical Store is one of the topmost pharmaceutical suppliers with an experience of more than 50 years. Cinasun 30 is sold in bulk at very affordable prices. They provide the best quality services at your own convenient time. If you are looking for Cinacalcet 30 mg then you can visit our website.
Send your query