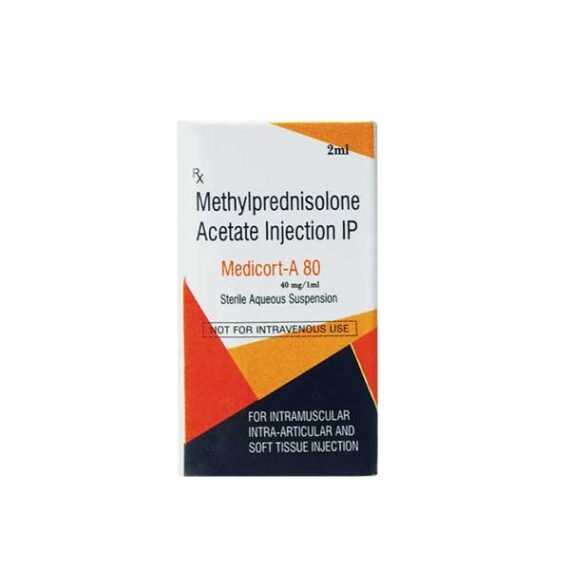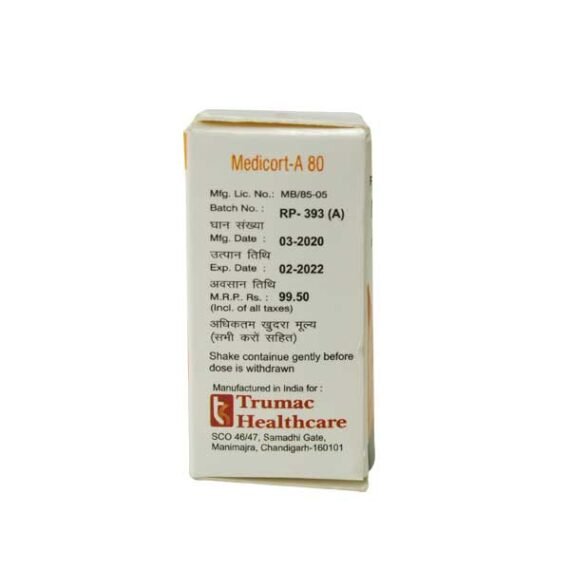 Medicort-A 80
$0.00
Brand:- Medicort-A 80
Composition:- Methylprednisolone Acetate Injection
Form:- Injection
Strength:- 40mg/ml
Packing:- 2ml
Manufacture By:- Trumac Healthcare
DESCRIPTION:
Methylprednisolone is used to treat pain and swelling that occurs with arthritis and other joint disorders. This medication may also be used to treat various conditions such as blood disorders, severe allergic reactions, certain cancers, eye conditions, skin/intestinal/kidney/lung diseases, and immune system disorders.
Description
What does the Medicort-A 80 Injection contain?
40 mg Act-O-Vial System (Single-Use Vial)—Each mL (when mixed) contains methylprednisolone sodium succinate equivalent to 40 mg methylprednisolone; also 1.6 mg monobasic sodium phosphate anhydrous; 17.46 mg dibasic sodium phosphate dried; and 25 mg lactose hydrous.
How to take a Medicort-A 80 Injection?
Methylprednisolone 40mg Injection is usually given as an injection by your doctor into a vein, joint, or muscle.

The amount you are given will depend on what you are being treated for and how much you need to control your symptoms.
Possible side effects of Medicort-A 80 Injection.
Nausea, vomiting, heartburn, headache, dizziness, trouble sleeping, appetite changes, increased sweating, acne, or pain/redness/swelling at the injection site may occur. If any of these effects persist or worsen, tell your doctor or pharmacist promptly.
Storage.
Store at room temperature (10-30°C)
Send your query