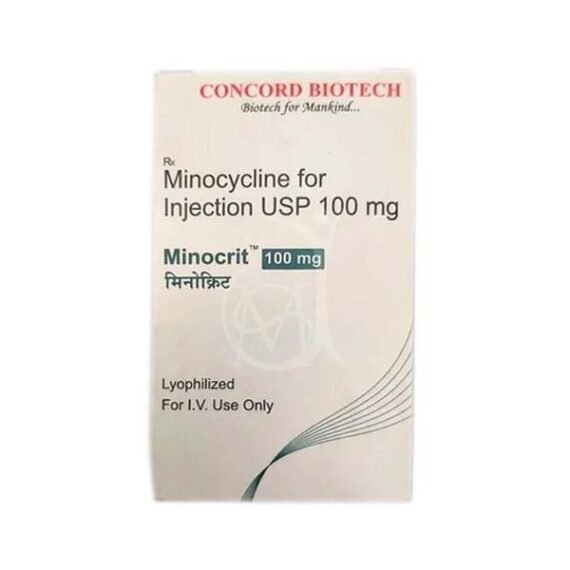 Minicort 100Mg
$0.00
Brand: Minicort 100Mg Injection
Composition: Minocycline 100mg
Form: Injection
Packing: Injection
Manufactured By: Concord Biotech
DESCRIPTION:
Minicort 100Mg Injection belongs to a group of specifics called tetracycline antibiotics, used to treat a wide range of bacterial infections. Minicort 100Mg Injection treats urinary tract infections, intestinal infections, respiratory infections, sexually transmitted infections( like gonorrhea, and syphilis), skin infections, and others. Besides this, Miniocrit 100Mg Injection also treats acne- suchlike lesions caused by rosacea. Bacterial infection is a condition in which bacteria grows in the body and begets infection. It can target any body part and multiple veritably snappily. Antibiotics inhibit the growth of microorganisms given to treat similar kinds of infections.  
Description
How to Take Minicort 100Mg Injection?
Consult your doctor or pharmacist
Possible side effects of Minicort 100Mg Injection
Most aspect effects no longer require any medical attention and disappear as your body adjusts to the medicine. Consult your medical doctor in the event that they persist or in case you're concerned approximately them
Headache

Photosensitivity (extreme sensitivity to ultraviolet (UV) rays from the sun and other light sources)

Dizziness

Vomiting

Itching

Nausea

Diarrhea
Storage.
Store in a cool and dry place away from sunlight.
Why choose us?
Jindal Medical Store is one of the topmost pharmaceutical exporters with an experience of more than 53 years. Minicort 100Mg Injection is sold in bulk at very affordable prices. They provide the best quality services at your own convenient time. If you are looking for Minicort 100Mg Injection, you can visit our website.
Send your query