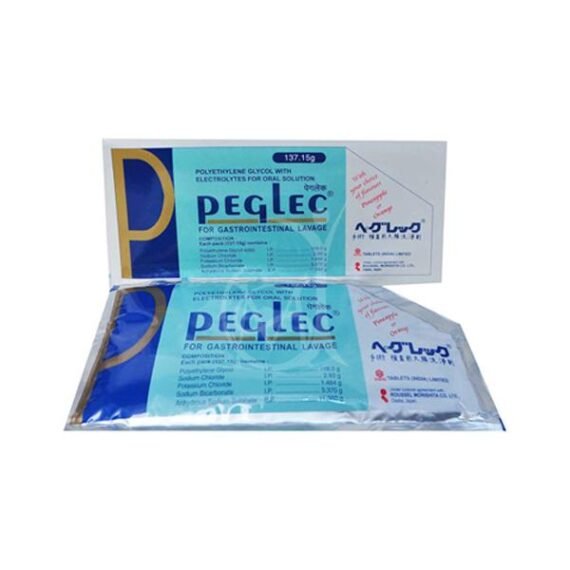 Peglec Powder
$0.00
Brand: Peglec Powder
Composition: Peg-Electrolytes, Potassium Chloride, Sodium Bicarbonate, Sodium Chloride, Sodium Sulphate
Form: Powder
Packing: 137.15g
Manufactured By: Til Healthcare
DESCRIPTION:
Peglec Powder is a mix of bibulous laxatives and electrolytes indicated for gastrointestinal lavage. It's also used for sanctification of the colon in barium enema X-ray examination and medication for colonoscopy in grown-ups. Polyethylene glycol, sodium chloride, potassium chloride, sodium bicarbonate, and anhydrous sodium sulphate are the crucial constituents in Peglec Powder.
Description
How to Take a Peglec Powder?
Take a clean 2- litre vessel and clear the entire pack of Peglec greasepaint into it. Pour a litre of water into the vessel, stir well to dissolve Peglec result fully. Also, pour another litre of water into the vessel and mix well. Drink a glassful (200 ml) every 10 – 15 min, so as to consume 1- litre result in 1- hour duration.
Possible side effects of Peglec Powder
Most aspect effects no longer require any medical attention and disappear as your body adjusts to the medicine. Consult your medical doctor in the event that they persist or in case you're concerned approximately them
Nausea

Abdominal fullness

Bloating

Abdominal cramps

Vomiting

Anal irritation
Storage.
Store in a cool and dry place away from sunlight.
Why choose us?
Jindal Medical Store is one of the topmost pharmaceutical exporters with an experience of more than 53 years. Peglec Powder is sold in bulk at very affordable prices. They provide the best quality services at your own convenient time. If you are looking for Peglec Powder, you can visit our website.
Send your query