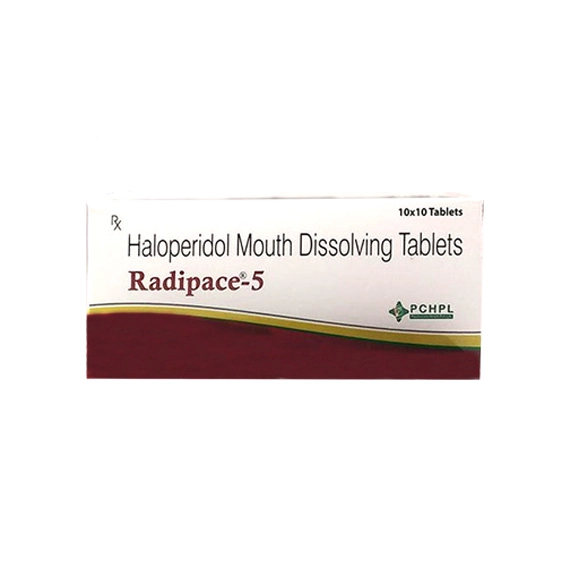 Radipace 5
$0.00
Brand: Radipace 5
Composition: Haloperidol (5mg)
Form: Tablet
Packing: 10×10
Manufacture By: Psychocare Health Pvt Ltd
DESCRIPTION:
Radipace 5 (Haloperidol mouth dissolving)  tablets are a formulation of the antipsychotic medication haloperidol that rapidly dissolves in the mouth without the need for water. These tablets are primarily used for the management of acute agitation and psychotic symptoms associated with conditions like schizophrenia and bipolar disorder. The mouth dissolving formulation allows for quick absorption, providing a convenient and potentially more effective option for patients who may have difficulty swallowing or require rapid relief from symptoms.
Description
How to Take a Radipace 5?
Use it as directed by your doctor, or first read the label to confirm usage.
Possible side effects of Radipace 5
Haloperidol mouth dissolving tablets can cause drowsiness and sedation, affecting alertness and concentration. It is important to exercise caution when engaging in activities that require mental focus, such as driving or operating machinery, until the individual's response to the medication is known.
Storage.
Store below 30°C.
Why choose us?
Jindal Medical Store is one of the topmost pharmaceutical suppliers with an experience of more than 50 years. Radipace 5 is sold in bulk at very affordable prices. They provide the best quality services at your own convenient time. If you are looking for Radipace 5 then you can visit our website.