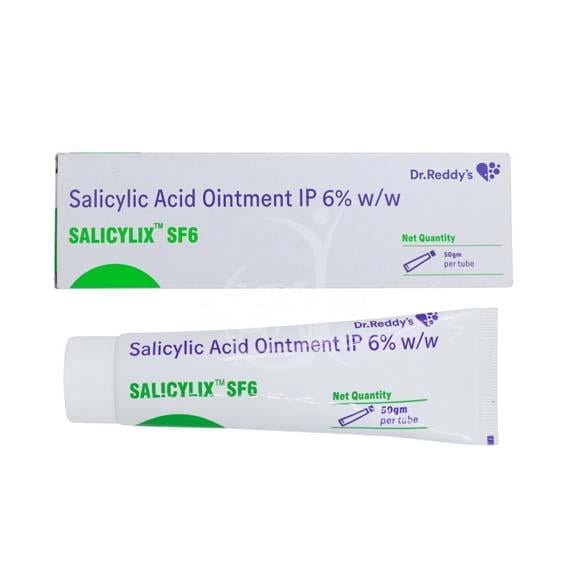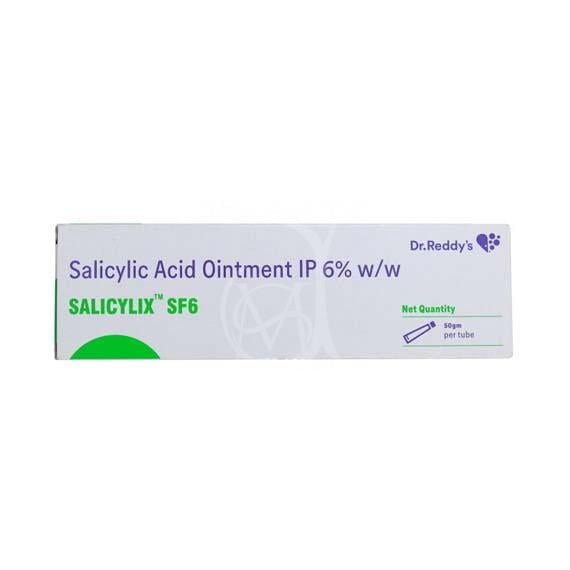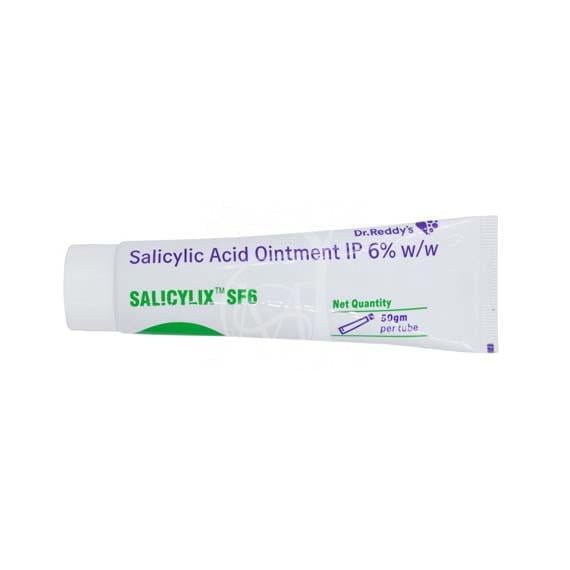 Salicylix SF 6
$0.00
Brand: Salicylix SF 6  
Composition: Salicylic Acid      
Form: Oinment
Strength: Salicylic Acid-6%w/w
Packing: 50g
Manufacture By: Dr. Reddy's Laboratories Ltd
DESCRIPTION:
Salicylix SF 6 contains Salicylic acid. It functions as a peel agent and helps to relieve the skin of dead skin cells while also sanctifying unctuous skin. Salicylic acid helps in treating hyperkeratotic skin conditions similar to psoriasis, sludge, callus and knobs. 
Salicylic acid causes the skin to exfoliate dead cells from its top sub caste by adding the quantum of humidity in the skin and dissolving the" cement "between the cells. This makes it easier to exfoliate the skin cells, softens the top sub caste of skin, and decreases scaling and blankness.   
Description
How to Take a Salicylix SF 6 Ointment ?
Salicylix SF6 Ointment 30 gm is available in topical (for skin use) liquid, gel, ointment, cream, ointment, head, cleanser, cleaner, cloth pads and skin patches. Salicylix SF6 Ointment 30 gm is for external use only. Use it in the cure and duration as advised by your doctor.Cream/ Gel/ Ointment Take the advised amount of gel/ ointment/ cream with clean and dry hands on the skin's affected areas. Gently butter the medicine into the skin with your galettes. Wash your hands ahead and after applying Salicylix SF6 Ointment 30 gm. Do not put dressing or circumference on the affected areas.Foam Apply a generous amount onto the affected areas with hands and massage it with galettes. Wash off with clean water.Cleansing Cleanser Work the cleanser into a nice lather and apply it on the affected areas with your hands. Gently massage in circular movements and wash off with clean water. Shampoo Wet your hair and crown with lukewarm water. Take a small amount of cleaner applied directly to the crown. Gently butter the medicine into the crown with your galettes and wash it off with clean water.      
Possible side effects of Salicylix SF 6 Ointment
Dry skin 

Erythema ( skin greenness) 

Skin Vexation 

Slight chinking sensation 

Skin rash 

Dizziness, Deafness and Hearing disturbance (in amped babies)
Storage.
Store in a cool and dry place down from sun 
Why choose us?
Jindal Medical Store is one of the topmost pharmaceutical exporters with an experience of more than 50 years. Sat-Isabghol is sold in bulk at very affordable prices. They provide the best quality services at your own convenient time. If you are looking for Psyllium Husk then you can visit our website.
Send your query