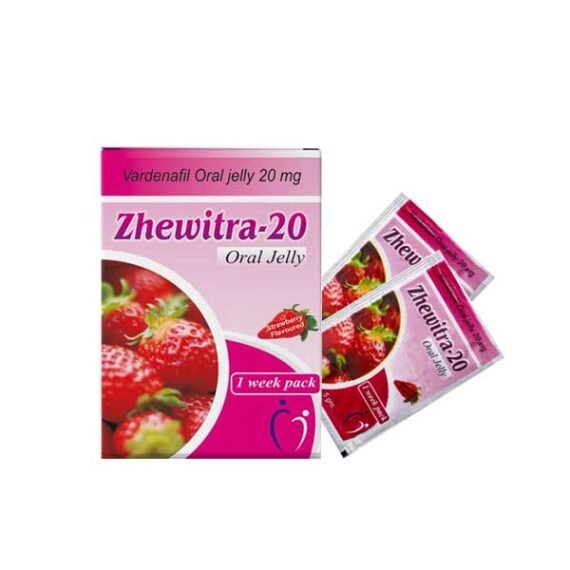 Zhewitra 20 Oral Jelly
$0.00
Name: Zhewitra 20 Oral Jelly
Composition: Vardenafil
Form: Oral Jelly
Packing: 7×5 gm Sachets
Manufactured by: Sunrise Remedies 
Description
Zhewitra 20 Oral Jelly is used for the treatment of erectile dysfunction in men. It works by increasing the blood flow in the penis by relaxing the muscles in penile blood vessels which helps to have an erection.
Description
How to consume?
It should be swallowed with a glass of water. It should be taken only after the consent of a doctor.
Zhewitra 20 Oral Jelly side effects 
Prolonged erection

Allergies 

Chest Pain

Swelling in the extremities 

Back and Joint Pain

Heartbeat irregularities 

Myalgia 

Storage
It should be kept in cool and dry places away from children and pets.
Why choose us?
Jindal Medical Store is one of the topmost pharmaceutical suppliers with an experience of more than 50 years. Zhewitra 20 Oral Jelly is sold in bulk at very affordable prices. They provide the best quality services at your own convenient time. If you are looking for Zhewitra 20 Oral Jelly then you can visit our website.
Send your query