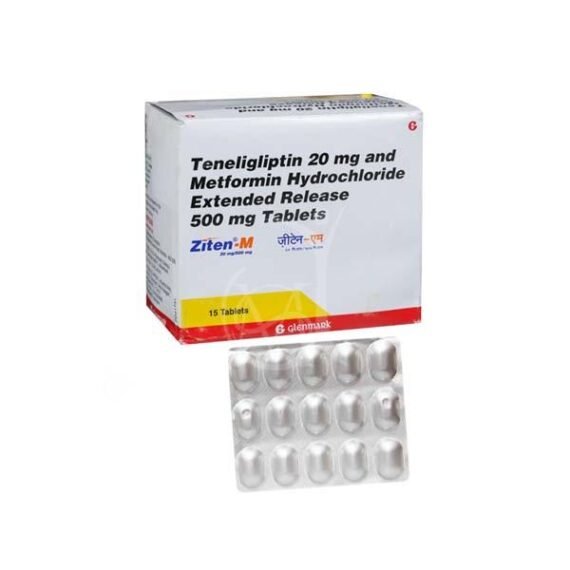 Ziten M 20 Mg500 Mg Tablet
$0.00
Brand: Ziten M 20 Mg/500 Mg Tablet
Composition: Metformin-500mg + Teneligliptin-20mg
Form: Tablet
Packing: 10×15 Tablets
Manufactured By: Glenmark Pharmaceuticals Ltd
DESCRIPTION:
To Treat Type 2 Diabetes Mellitus, Ziten-m 20 Mg/500 Mg Tablet 15's Contains the Two Pharmaceuticals Metformin and Teneligliptin. It is a Member of the Class of Drugs Known as "Antidiabetic Agents." for Diabetic Patients Who Do Not Respond Well to Metformin Alone, This Drug Enhances Glycemic Control. A Chronic or Lifelong Illness Known as Type 2 Diabetes Mellitus Causes Abnormally High Blood Sugar or Glucose Levels. It Happens When the Body Cannot Adequately Use Any Insulin That is Created or When There is Insufficient Insulin to Properly Metabolise Glucose in the Body.
Description
How to Take Ziten M 20 Mg/500 Mg Tablet?
It should be completely swallowed with water; do not break, crush, or chew it.
Possible side effects of Ziten M 20 Mg/500 Mg Tablet
Most side effects do not require any medical attention and disappear as your body adjusts to the medicine. Consult your doctor if they persist or if you're worried about them
Common side effects of Ziten M 20 Mg/500 Mg Tablet
Nausea (Feeling Sick)

Vomiting (Falling Sick)

Diarrhea

Headache

Stomach Ache

Respiratory Infection

Weight Gain

Sweating

Palpitations

Numbness

Vision Problems
Storage.
Store in a cool and dry place away from sunlight
Why choose us?
Jindal Medical Store is one of the topmost pharmaceutical exporters with an experience of more than 53 years. Ziten M 20 Mg/500 Mg Tablet is sold in bulk at very affordable prices. They provide the best quality services at your own convenient time. If you are looking for Ziten M 20 Mg/500 Mg Tablet, you can visit our website.
Send your query