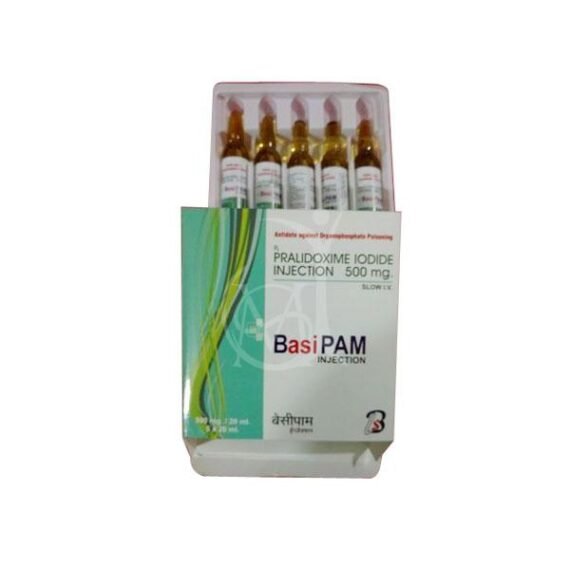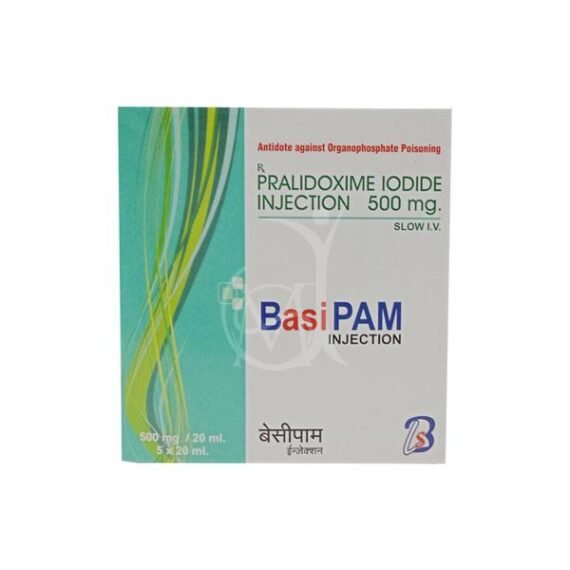 Basi Pam
$0.00
Brand: BasiPam 500mg Injection
Composition: Pralidoxime Iodide Injection 500mg
Form: Injection
Packing: 5×20 Injection
Manufactured By: Basil Lifesciences
DESCRIPTION:
BasiPam 500mg Injection is a physician-recommended medication utilized in the treatment of harm brought about by pesticides and synthetic substances that contain organophosphates. It is utilized in situations where respiratory gloom happens because of muscle shortcoming because of harm.
BasiPam 500mg Injection is managed in a health related crisis circumstance in this manner point ought to be to look for the treatment of harming without hanging tight for the consequences of lab tests. This infusion is given under the management of a medical services proficient. Additionally, it is essential to counsel your primary care physician assuming you have an unusual heartbeat, trouble or issue with breathing, expanded muscle shortcoming, or extreme sluggishness in the wake of getting this medication.
Description
How to Take BasiPam 500mg Injection?
Your doctor or nurse will give you this medicine. Kindly do not self-administer.
Possible side effects of BasiPam 500mg Injection
Most aspect effects no longer require any medical attention and disappear as your body adjusts to the medicine. Consult your medical doctor in the event that they persist or in case you're concerned approximately them
Accommodation disorder

Dizziness

Double vision

Drowsiness

Headache

High blood pressure

Increased heart rate

Muscle weakness

Nausea
Storage.
It should store below 30°C in a cool dry place.
Why choose us?
Jindal Medical Store is one of the topmost pharmaceutical exporters with an experience of more than 53 years. BasiPam 500mg Injection is sold in bulk at very affordable prices. They provide the best quality services at your own convenient time. If you are looking for BasiPam 500mg Injection then you can visit our website.
Send your query