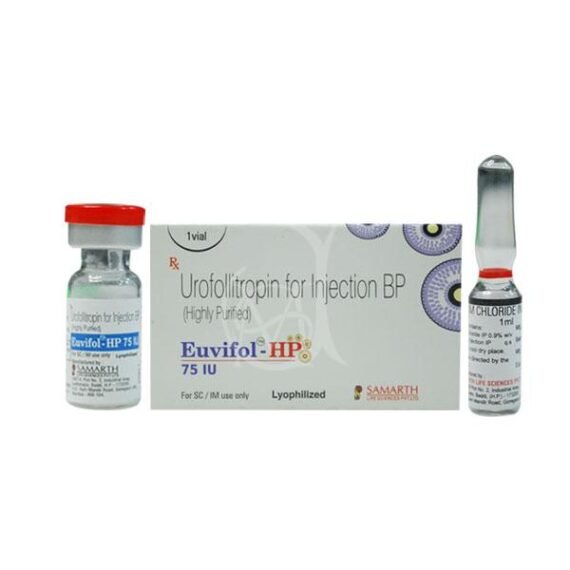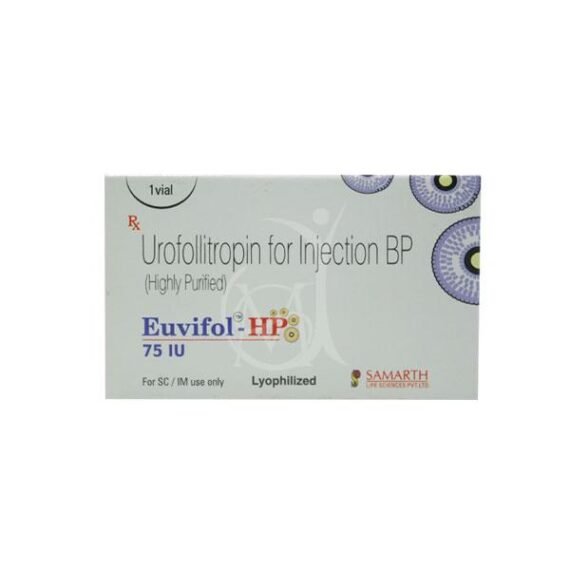 Euvifol HP 75
$0.00
Name: Euvifol HP 75
Composition: Urofollitropin (75 IU)
Form: Injection
Packing: 1 vial
Manufactured by: Samarth Life Sciences Pvt Ltd
Description
Euvifol HP 75IU Injection is used in the treatment of female infertility. It is used in women who have a problem with ovulation or are undergoing fertility treatments like in-vitro fertilization. Euvifol HP 75IU Injection is given as an injection under the supervision of a doctor. Your doctor or nurse will help you to learn the exact method of self-administration. Your doctor will decide the right time to take the injection, so always follow your doctor's advice. The dose and how often you take it to depend on what you are taking it for. You might be prescribed certain other medicine as a part of your treatment. You should take this medicine for as long as it is prescribed for you.
Description
How to consume?
Your doctor or nurse will give you this medicine. Kindly do not self-administer.
Euvifol HP 75 side effects:
• Abdominal pain
• Headache
• Bloating
• Pelvic pain
• Abdominal cramp
• Nausea
• Respiratory disorder
• Hot flushes
Storage
Store in a refrigerator (2 – 8°C). Do not freeze.
Why choose us?
Jindal Medical Store is one of the topmost pharmaceutical exporters with experience of more than 50 years. Euvifol HP 75 is sold in bulk at very affordable prices. They provide the best quality services at your own convenient time. If you are looking for Urofollitropin 75 IU then you can visit our website.
Send your query