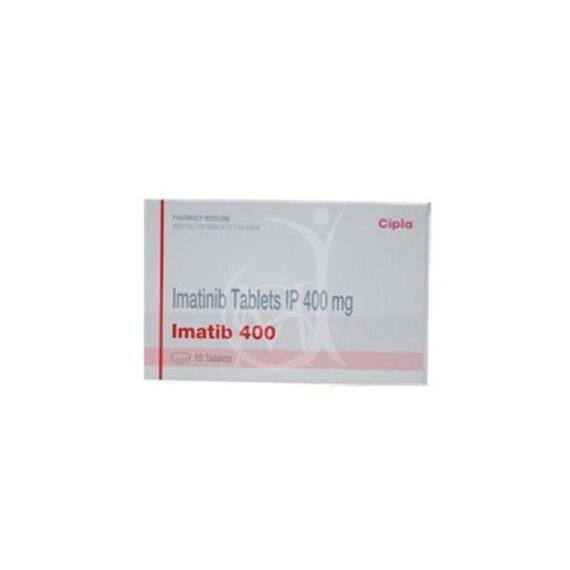 Imatib 400
$0.00
Brand: Imatib 400
Composition: Imatinib mesylate (400mg)
Form: Tablets
Packing: 1×10 tablets
Manufactured By: Cipla 
DESCRIPTION:
Imatib 400 has a place with the class of medications known as tyrosine kinase obstacles. It's utilized in the therapy of blood malignant growth( ongoing myeloid leukemia and Acute lymphocytic leukemia) and gastrointestinal stromal excrescence. Leukemia is a disease of white platelets, the cells by and large assist the body with battling contamination.
IMATIB additionally used to treat myelodysplastic/myeloproliferative circumstances, hyper eosinophilic design( HES) as well as constant eosinophilic leukemia, gastrointestinal stromal growths and dermatofibrosarcoma protuberans in adults. Tyrosine kinases are proteins which go about as substance messengers that are utilized by the disease cells to signal to one another for their development. This medication works by obstructing this chemical and prevents the malignant growth cells from developing.
Description
How to Take Imatib 400?
Take this medication in the fix and term as exhorted by your Doctor. Gulp down it as an entire. Try not to nibble , pulverize or break it. Imatib 400 Tablet is to be taken with food.
Possible side effects of Imatib 400
Common side effects
Nausea

Vomiting

Muscle cramp

Musculoskeletal (bone, muscle or joint) pain

Diarrhea

Rash

Fatigue

Abdominal pain

Edema (swelling)
Storage.
Store below 30°C
Why choose us?
Jindal Medical Store is one of the topmost pharmaceutical exporters with an experience of more than 53 years. Imatib 400 is sold in bulk at very affordable prices. They provide the best quality services at your own convenient time. If you are looking for Imatib 400, you can visit our website.
Send your query