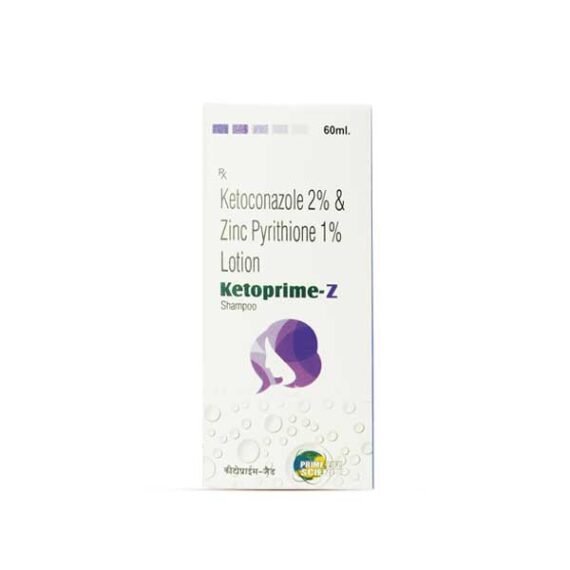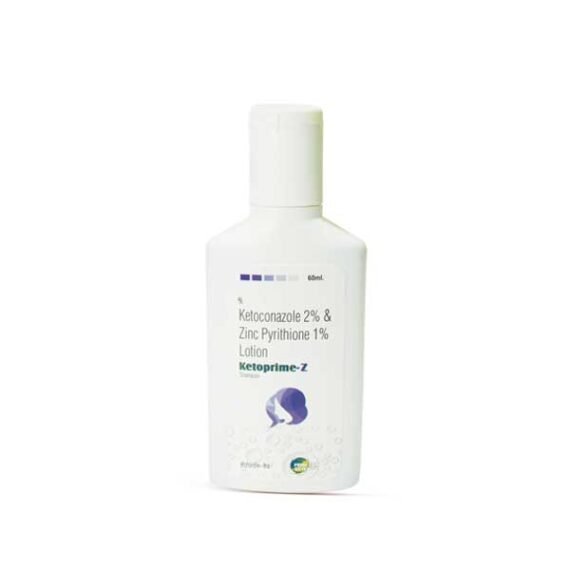 Ketoprime-Z
$0.00
Brand:- Ketoprime-Z
Composition:- Ketoconazole 2% & Zinc Pyrithione 1% Lotion
Form:- Lotion
Strength:- Ketoconazole 2% & Zinc Pyrithione 1%
Packing:- 60ml
Manufacture By:- Prime Life Sciences Pvt Ltd
DESCRIPTION:
This medication is used to treat a certain skin condition (seborrheic dermatitis, a type of dandruff). In this condition, it is believed that a fungus (Malassezia furfur) infects the skin or scalp, resulting in dry, flaky skin (scales) on the scalp, face, ears, chest, or upper back.
Description
What does the Ketoprime-Z Lotion contain?
Ketoconazole+Zinc pyrithione is used in the treatment of dandruff. Ketoconazole + Zinc pyrithione is a combination of two antifungal medicines: Ketoconazole and Zinc pyrithione. It works by destroying the cell membrane of fungi that cause dandruff.
How to take a Ketoprime-Z Lotion?
Use this medication on the scalp and skin only.

Clean and thoroughly dry the area to be treated.

Wash hands before and after applying this medication.

Apply it to the affected skin and also to a small amount of the normal skin next to this area, usually once a day or as directed by your doctor.
Possible side effects of Ketoprime-Z Lotion.
Burning, redness, or dryness of the treated skin may occur. If any of these effects persist or worsen, tell your doctor or pharmacist promptly. Tell your doctor right away if any of these rare but very serious side effects occur: blisters/open sores on the treated skin, eye swelling.
Storage.
Store the medicine in a closed container at room temperature, away from heat, moisture, and direct light. Keep from freezing. Keep out of the reach of children.
Send your query