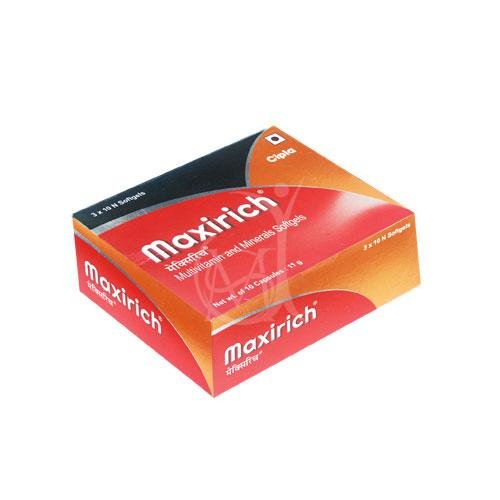 Maxirich Capsules
$0.00
Name: Maxirich Capsules
Composition: Multivitamin & Minerals Softgel
Form: Capsule
Packing: 3×10 N Softgels
Manufactured by: Cipla Ltd
Description
Maxirich capsule is a nutritional supplement that helps to release energy, support immunity, improve mental performance, and helps to reduce tiredness and fatigue. Vitamin B complex improves appetite, treats weakness and lethargy. Phosphorus is the main component of ATP which is the fundamental energy source, protects bones, and fights against osteomalacia. Iron maintains HB level thus fights against anemia. Magnesium helps in the synthesis of DNA & RNA. Potassium iodide is required for the synthesis of thyroid hormone and helps in normal muscle and nerve activity. Zinc increases stamina by prolonging muscle contraction and manganese prevents bone loss. Mecobalamin (the active form of Vitamin B12) assists important enzymes involved in energy production from fats and proteins.
Description
How to consume?
It is recommended to take 1 capsule daily after a meal.
Maxirich Capsules side effects:
Maxirich capsules generally won't cause any side effects. If you experience any unusual reactions check with your physician.
Storage
Store in a cool and dry place away from sunlight.
Why choose us?
Jindal Medical Store is one of the topmost pharmaceutical exporters with experience of more than 50 years. Maxirich Capsules are sold in bulk at very affordable prices. They provide the best quality services at your own convenient time. If you are looking for Multivitamin & Minerals Softgel then you can visit our website.
Send your query