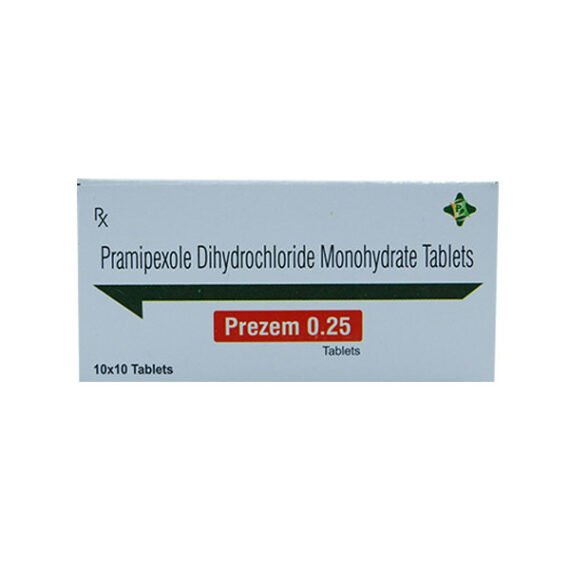 Prezem 0.25
$0.00
Name: Prezem 0.25
Composition: Pramipexole (0.25mg)
Form: Tablet
Packing: 10×10 Tablet
Manufactured by: Jips Pharmaceuticals
Description
Prezem 0.25 Tablet is used in the treatment of Parkinson's disease and restless leg syndrome (an urge to move the legs usually accompanied or caused by uncomfortable and unpleasant leg sensations). It helps to treat excessive shaking by slowing down the body movements. Prezem 0.25 Tablet should be taken with food. However, take it at the same time each day as this helps to maintain a consistent level of medicine in the body.
Description
How to consume?
Swallow it as a whole. Do not chew, crush or break it. Prezem 0.25 Tablet is to be taken with food.
Prezem 0.25 side effects :
• Dizziness
• Sleepiness
• Nausea
• Dryness in mouth
• Fatigue
Storage
Store below 30°C
Why choose us?
Jindal Medical Store is one of the topmost pharmaceutical exporters with an experience of more than 50 years . Prezem 0.25 is sold in bulk at very affordable prices. They provide the best quality services at your own convenient time. If you are looking for Pramipexole 0.25mg then you can visit our website.
Send your query