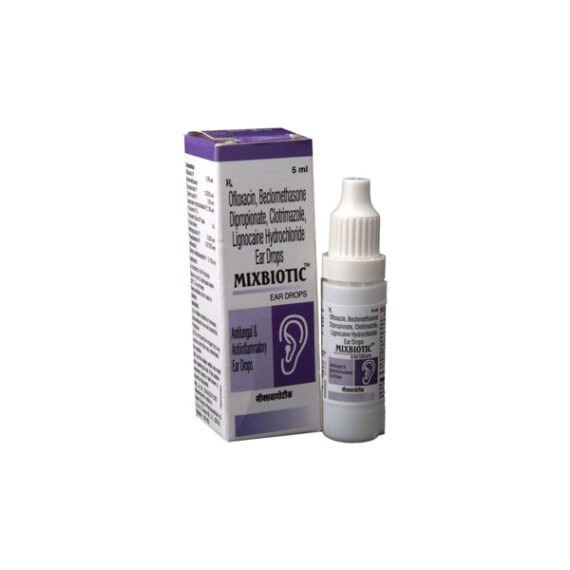 Mix Biotic
$0.00
Name: Mix Biotic
Composition: Lidocaine (2% w/v) + Clotrimazole (1% w/v) + Beclometasone (0.025% w/v) + Ofloxacin (0.3% w/v)
Form: Drop
Packing: 5ml
Manufactured by: Nri Vision Care India Limited
Description
Mix Biotic Ear Drop is a medicine used in the treatment of various types of ear infections. It prevents the growth of microorganisms that cause infection in the ears. It also relieves the symptoms of inflammation such as pain, itchiness, and irritation. Mix Biotic Ear Drop is to be used as per the label instructions or as suggested by your doctor. This medicine must be applied only to the affected ear.
Description
How to consume?
Check the label for directions before use. Hold the dropper close to the ear without touching it. Gently squeeze the dropper and place the medicine inside ear.
Mix Biotic side effects :
• Ear discomfort
• Application site irritation
Storage
Store below 30°C
Why choose us?
Jindal Medical Store is one of the topmost pharmaceutical exporters with an experience of more than 50 years . Mix Biotic is sold in bulk at very affordable prices. They provide the best quality services at your own convenient time. If you are looking for Lidocaine (2% w/v) + Clotrimazole 1% w/v + Beclometasone 0.025% w/v + Ofloxacin 0.3% w/v then you can visit our website.
Send your query